TOLD YA, BLACK OUTSIDE, BLOND INSIDE...
I'm such a dunderhead sometimes. I was going to post about one of my favourite shows -
America's Next Top Model
. It's close to the final and there's only 3 girls left and being in England we don't know who won yet, but now I do because
I went to the flipping website!
GAH!
I was going to say I was totally gutted that
April
was dismissed last week, coz I really liked her, but she got kinda uppity, trying to direct the photographer and art director on her last photo shoot. She was playing so well until that point, not putting a foot wrong.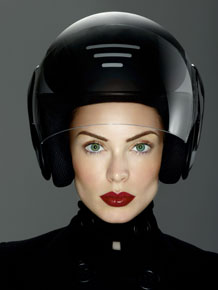 Yoanna's beauty shot
I'm quite glad
Yoanna
won - she seemed the most likely candidate. She paid close attention to everything and soaked it up like a sponge.
Shandi
came a looooooooooong way - a total and utter transformation [but playing away is just not cricket is it luv?].
Mercedes
, cute as she is, was 'very commercial' like the judges said.
Can someone please erase my memory or turn back time. Is there anyone out there with that kind of power! LOL